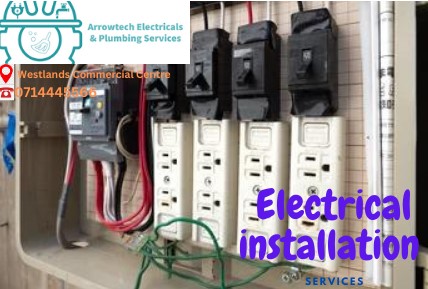 Electrical Installation Services in Kenya
Electrical installation projects are already stressful, but they can be even more difficult to manage, especially if not done properly. Since homes often have a lot of appliances and electrical installations, it's best to install them properly to avoid problems in the future.
At Arrowtech Electrical and plumbing services, we can help you with all your electrical services, from the electrical installation of lighting fixtures to chandeliers to water heater installation and repair. We take care of electrical installation projects for your new home or business renovation. No matter what your needs are, we are confident to provide you with affordable prices and timely electrical installation services.
We specialize in
• Lighting installations: Lighting fixtures, bulbs, chandeliers, recessed lights, and LED light installations
• install ceiling fan
• Installing Outlets/Wall Outlets
• Installation of Electrical Switches
• Power distribution/circuit breaker panels for apartments, commercial shops, and houses.
• Electrical wiring, including home theatre wiring
We create transparent quotes for your installation projects and negotiate a full price with you, which remains the same barring unplanned surprises. Whether it's a quick lighting installation or a commercial installation of extensions and fixtures, you can rest assured that we will save money on your project and meet the agreed delivery dates.
Lighting Fixtures – The right combination of lighting fixtures is very important to enhance the beauty and style of any home. We have a team of professional and certified electricians in Kenya who can install any lighting fixture or dimmer you like.
Ceiling Fan Installation – Arrowtech does quality ceiling fan installation for you. We also recommend the best ceiling fans for your home and make sure they are securely mounted to your roof trusses.
Electrical Installation
Outlet/wall outlet Installation – Having enough outlets and extension cords within 10 to 12 feet of the wall will make your home or office more comfortable. Let us help you cleanly install outlets in your home or office without damaging walls or existing wiring. Our experienced electricians will help you install extra outlets where you need them most.
Install a distribution board/breakout board – If you have a faulty breaker panel, you are sure to experience frequent power outages and travel around your home or office. We will replace any defective circuit breaker panels and install new distribution panels where they meet your current and future needs.
Generator Installation
Is your office Prepared for a power outage? Installing a backup generator will help you reduce downtime during a power outage. We can help you recommend and install generators and backup power systems to keep your business running smoothly no matter what.
How to Baby proof electrical Installations in your home
It is important to keep certain tips in mind to ensure that such installations are child-safe. You certainly don't want your kids to be exposed to dangerous hazards, do you? If so, follow these simple tips:
Tamper Resistant Outlets
These tamper-resistant receptacles feature a spring-loaded mechanism that automatically closes the slot in the receptacle when the positive pole is not inserted. You can choose this type for your socket installation.
Buy Outlet Covers
This is a less expensive way to baby-proof outlets, as they snap in and cover the socket slot.
Upgrade to Deluxe Crimp Receptacle
This is a modified version of the socket cover above. These deluxe crimp sockets provide extra protection for naughty kids who love to press the switch and remove the cover at the same time.
Frequently Asked Questions about Installation
Most major appliances and devices in Kenyan homes require electricity to operate. Therefore, careful and professional electrical installation is required to ensure the safety of everyone working with such household items. Any incorrect and improper electrical installation can cause a momentary short circuit which can lead to a power outage or even a house fire. Therefore, it is best to contact a reliable electrician for electrical installation to avoid accidents in the future.
Common electrical installation failures
All wires should be properly routed and secured securely with clips or staples. Also, make sure that these clamps don't fit so tightly around such cables that they damage the cables themselves. This is because such faulty wires can end up causing electrical problems. On the other hand, loosely laid wires can cause such cables to overheat, which can easily lead to accidental fires. Therefore, proper and professional wiring installation is essential to ensure the safety of Kenyan residents.
Most novice electricians probably still lack the necessary knowledge to perform this type of electrical installation. As a result, they may inadvertently use the wrong size and length of wire, which can cause serious potential hazards to electrical equipment in the home. To avoid such problems, only work with experienced and licensed electricians in Kenya who are able to install cables to the dimensions prescribed by the local electricity authority. Homeowners should also only work with electricians who have completed an electrical installation course from accredited institutions in Kenya.
The cable should be well wrapped with a plastic cable, otherwise, it is easy to damage the cable. In addition, when installing electrical wiring, an electrical junction box of appropriate size should be used to protect the electrical wiring. Never accidentally open these junction boxes to avoid accidents due to contact with live wires. Therefore, these boxes should be closed tightly with metal lids for safety.
Avoid short circuits by making sure the correct circuit breakers are used in your electrical installation. Your electrician should strictly follow the guidelines for electrical installations.
Junction boxes should not have too many wires running in one place, as this can lead to overheating and house fires. So it's best to use larger junction boxes and run the correct size cables through to avoid such accidents. Ask your electrician to check their electrical installation checklist to avoid mistakes and make sure all necessary tasks are done.
The lights may also be installed incorrectly, such as incorrect placement of live and neutral wires. A reliable electrician should always opt to use a circuit tester to make sure the wires are installed correctly.
Electrical Installation Safety Tips
Are you doing a new electrical installation? To avoid possible accidents, follow these important electrical
installation safety tips:
Remember that everything is live: Electrical equipment and installations should be handled with care, especially if they are live. There is a high risk of electric shock when handling live electrical wires. It is usually a mistake to think that only live wires are dangerous. People also often find it difficult to distinguish one type of wire from another, which makes it all the more important to handle them with care.
Turn off the power: When dealing with any electrical problem, you should always make sure that the power is turned off. This ensures your personal safety while doing electrical work. Do not turn the power switch on again until the electrical installation is complete and you want to test that the unit is working. If you hire a professional electrician to do the job, make sure they take the course as well.
Ensure Proper Insulation: Tools used to troubleshoot any type of electrical problem or electrical installation should have a "safety" handle. Check that these handles are really made of non-conductive material to ensure your safety and avoid possible accidents.
Watch your hands: Since electrical installation mostly involves manual work, don't interfere with electrical work you're not fully familiar with. When working with electricity, make sure your hands are completely dry. Also, be sure to wear electrician's gloves and closed-toed shoes. Most importantly, be careful what you touch, as your hands are the main point of contact. A trustworthy and reliable electrical repair company in Kenya should know these safety rules.
Try to use only one hand: The current always flows through the chest fastest. If you use both hands at the same time, you are likely to amplify this current because your chest is between your hands. Therefore, it is recommended to always operate power tools with one hand and keep the other hand away from electrical conductors.
Electrical installation location: Before starting work, check where you are doing electrical installations. Remember, it's important to check the viability of the location in advance. Avoid installation work in relatively cold rooms where it may be damp. Don't take chances, make sure the place is absolutely dry and free of moisture.
Help a co-worker: Most electrical installation jobs require more than a pair of hands. It is not recommended for anyone to do electrical work themselves. When dealing with various electrical problems, you should help each other in the process. If other people come into contact with live wires, remember to turn off the main power immediately to avoid contact with people. A certified electrician from an electrical repair company in Kenya should know these basic safety rules.